Ticket price and availability.
Order fulfillment and payment.
Please note! If you're on Internet Explorer we strongly recommend using at least version 8.0 or higher. .
Find a performance you'd like to book tickets for on the Playbill page and click «Book ticket» next to it.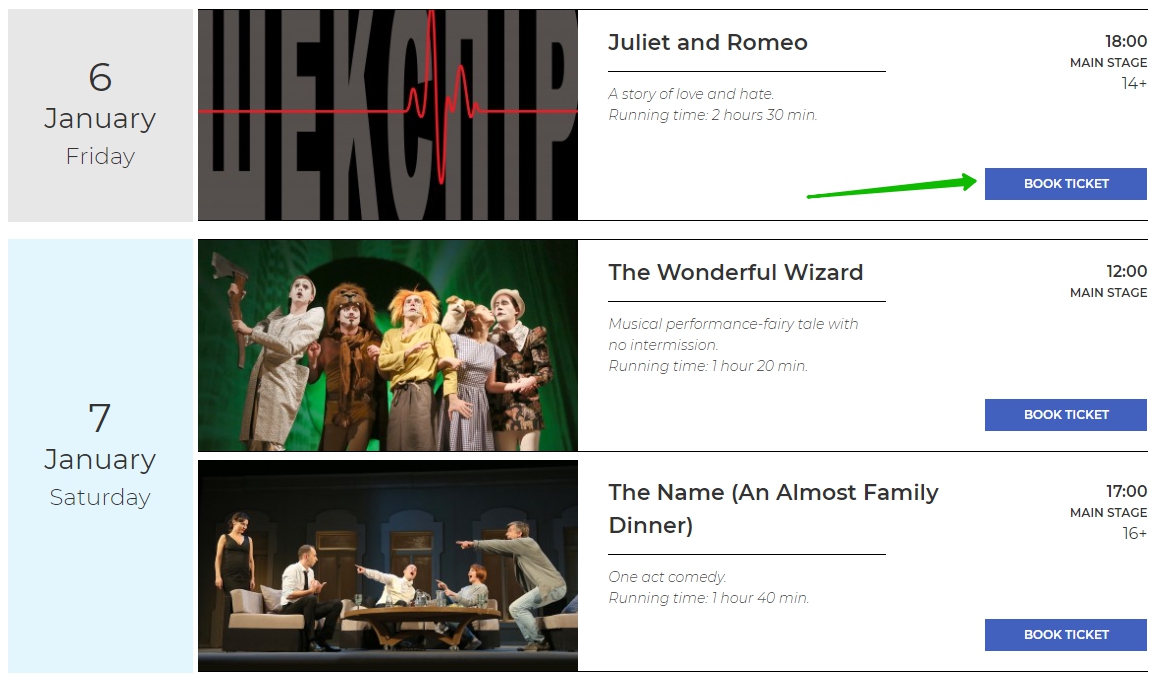 You can also book tickets directly by visiting the performance information page.

This page contains a detailed description of the performance, as well as feedback from the audience.
Once you've clicked the Book Tickets button, a new page with a seating plan will load where you can select the seats you want.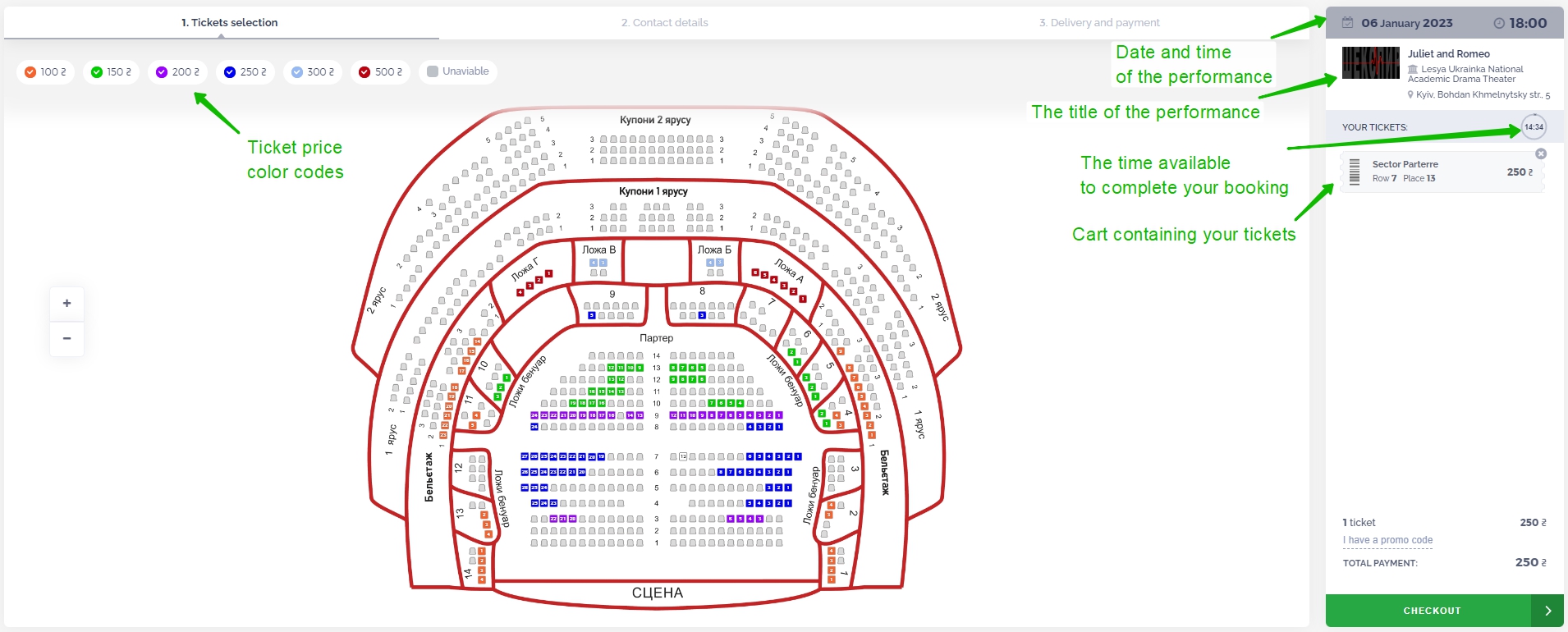 Ticket price and availability:
The seats in the plan have different colors depending on their price. There's an explanation of the color codes in the upper corner of the page. If a seat displays in grey this means that it's already been taken.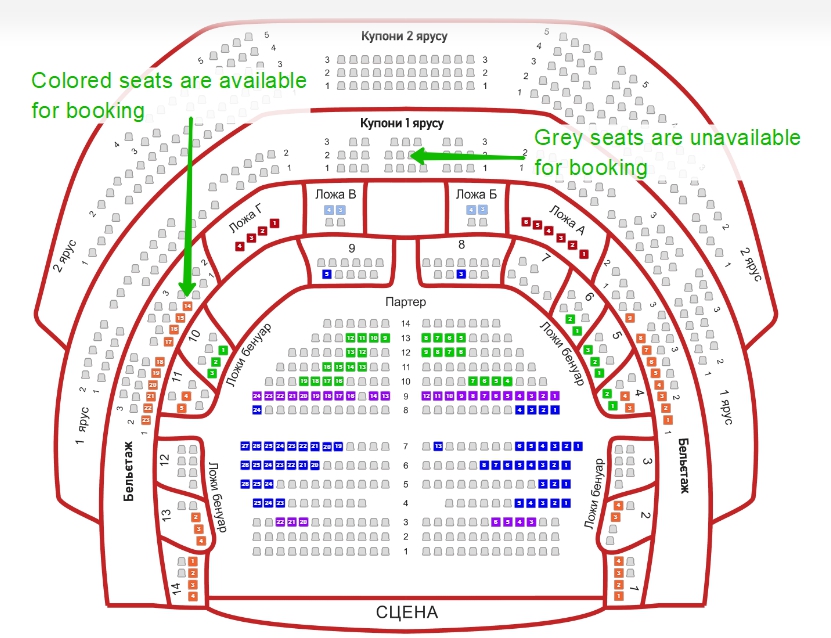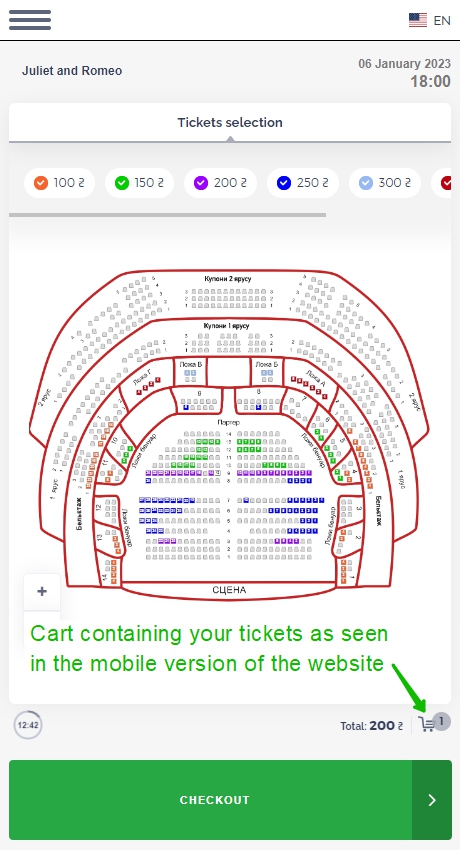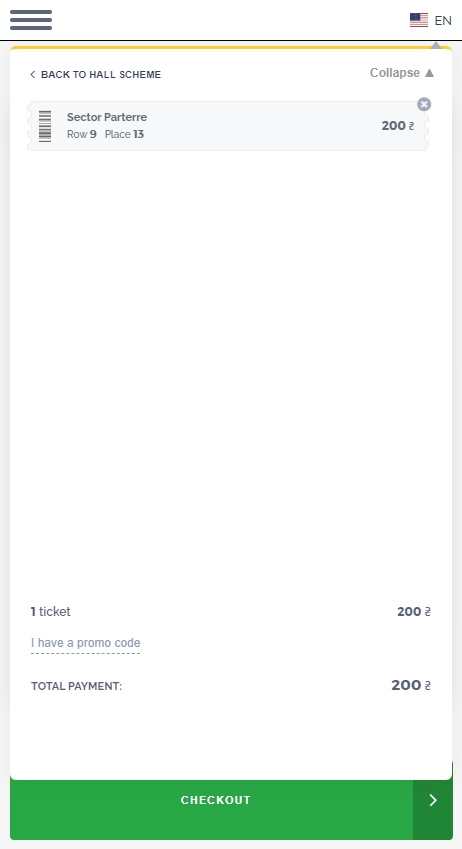 The seats you select are automatically added to the cart and the price is calculated automatically as well. Once you're happy with your choice, click "Checkout" to proceed.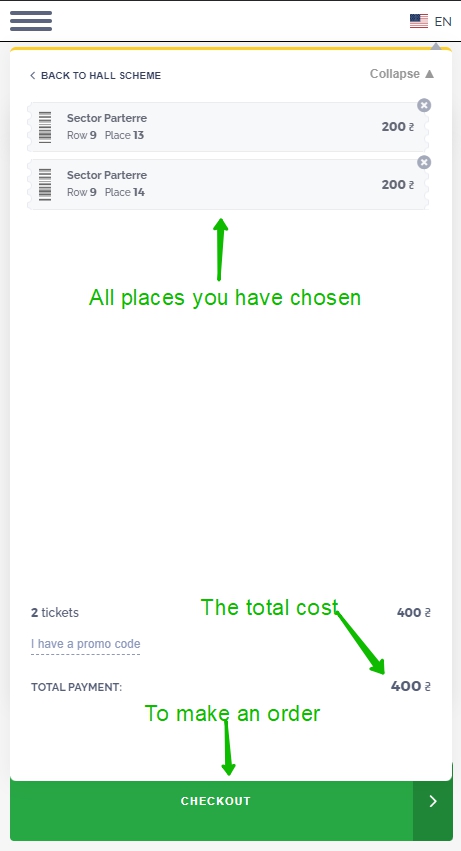 In order to continue you need to authorize on the website. Type in your email address and click "Continue"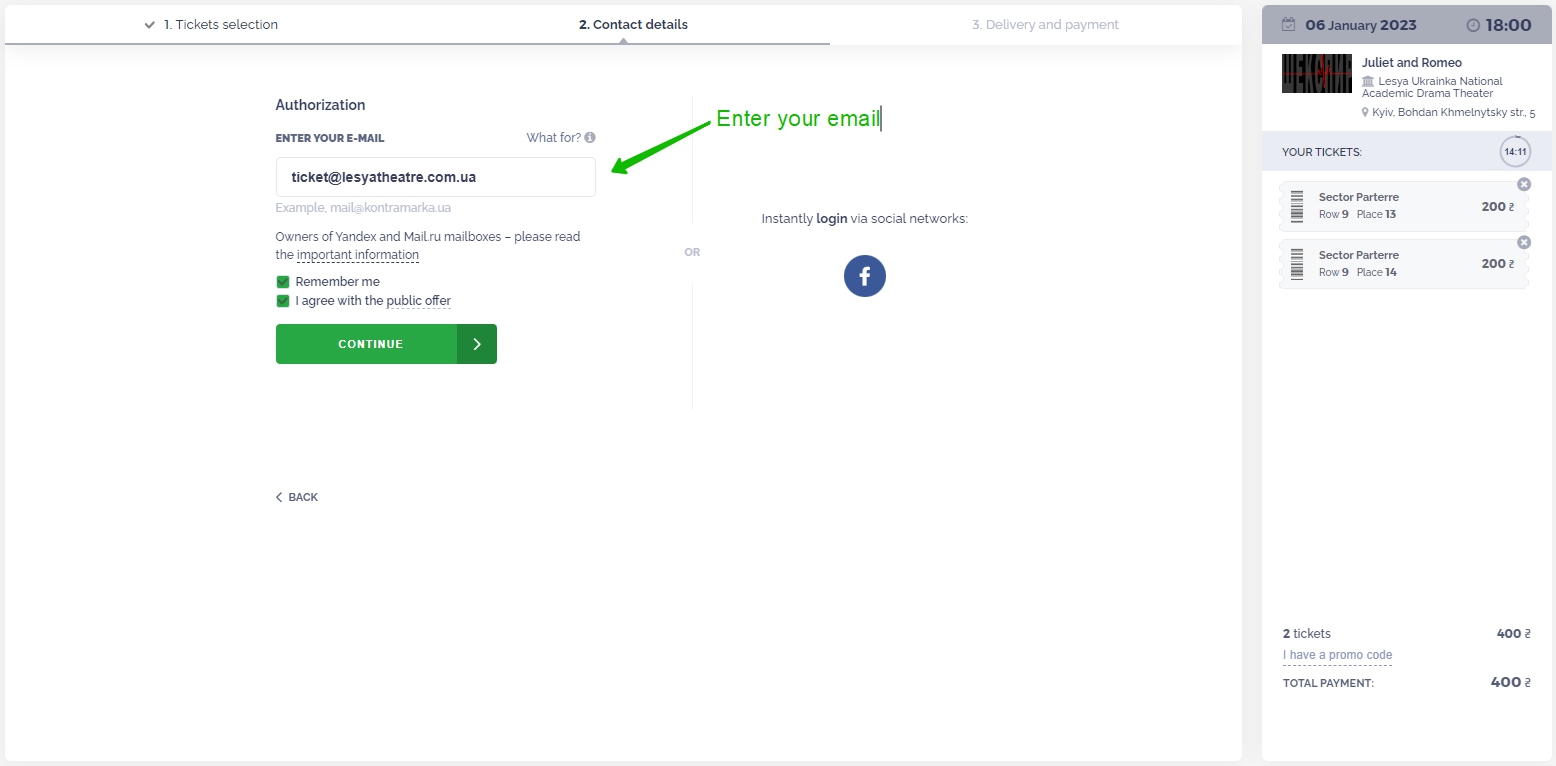 You will receive an authorization code on your email.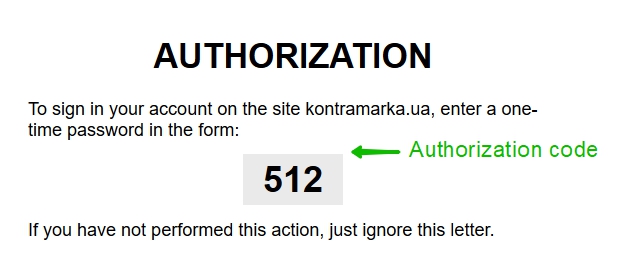 Enter this code into the field on the page, click «Enter» and you will be taken to your account page. A new account will be created if you haven't used the website before.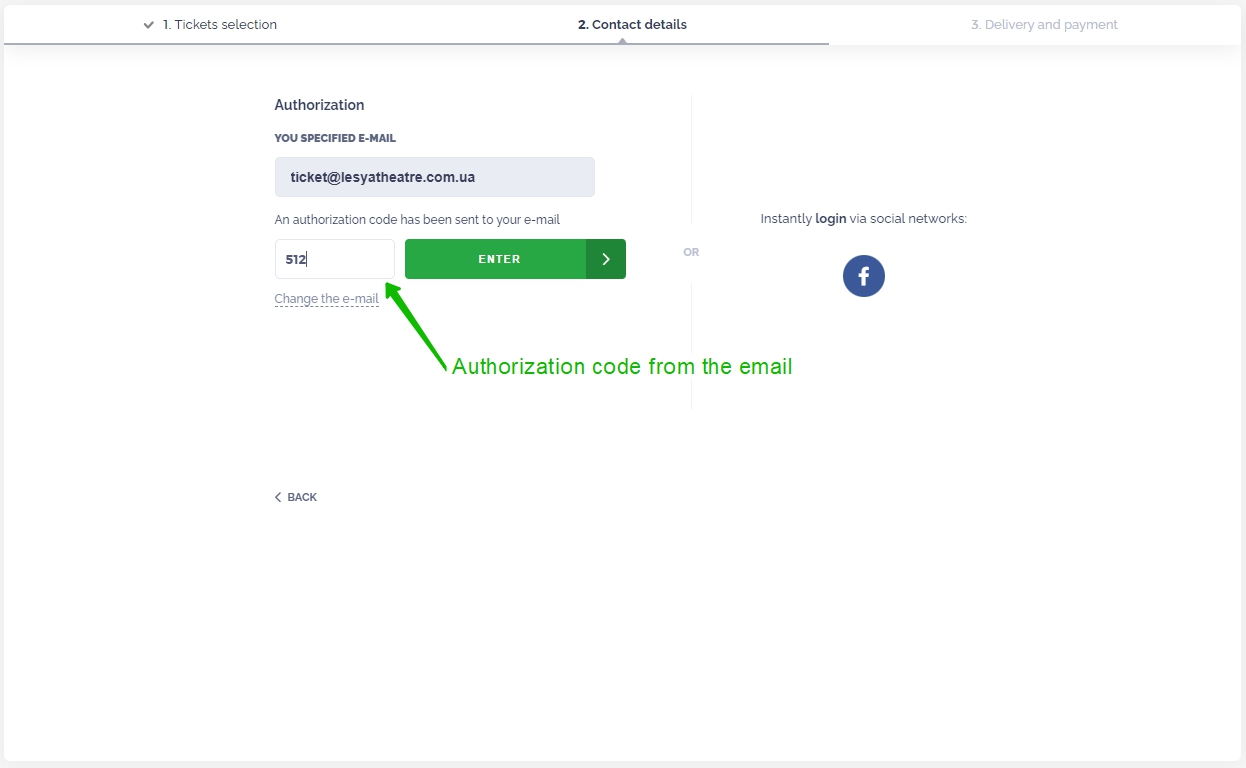 Contact data:
This page lets you manage how you receive tickets and order information.
A valid email address is mandatory for receiving electronic tickets.
The rest of the fields are optional. We recommend filling in your phone number to give us an alternative option for locating your orders.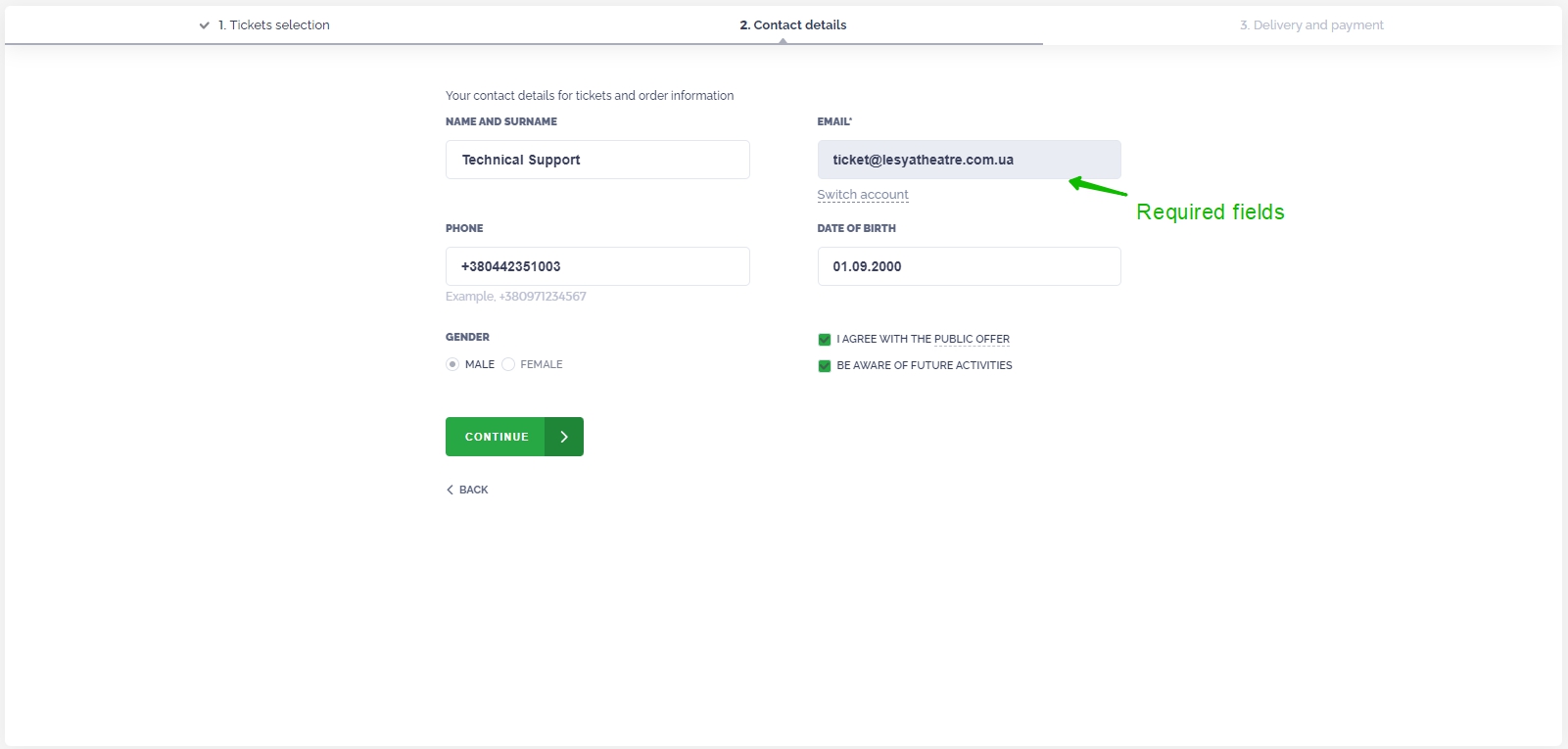 Click "Continue" to move to the next step.
Order fulfillment and payment:
At the moment only electronic tickets are available.
You could either print it or present it on a screen of your device. Please ensure the card you will be using for payment has sufficient funds. Currently the website accepts «VISA» and «MASTERCARD».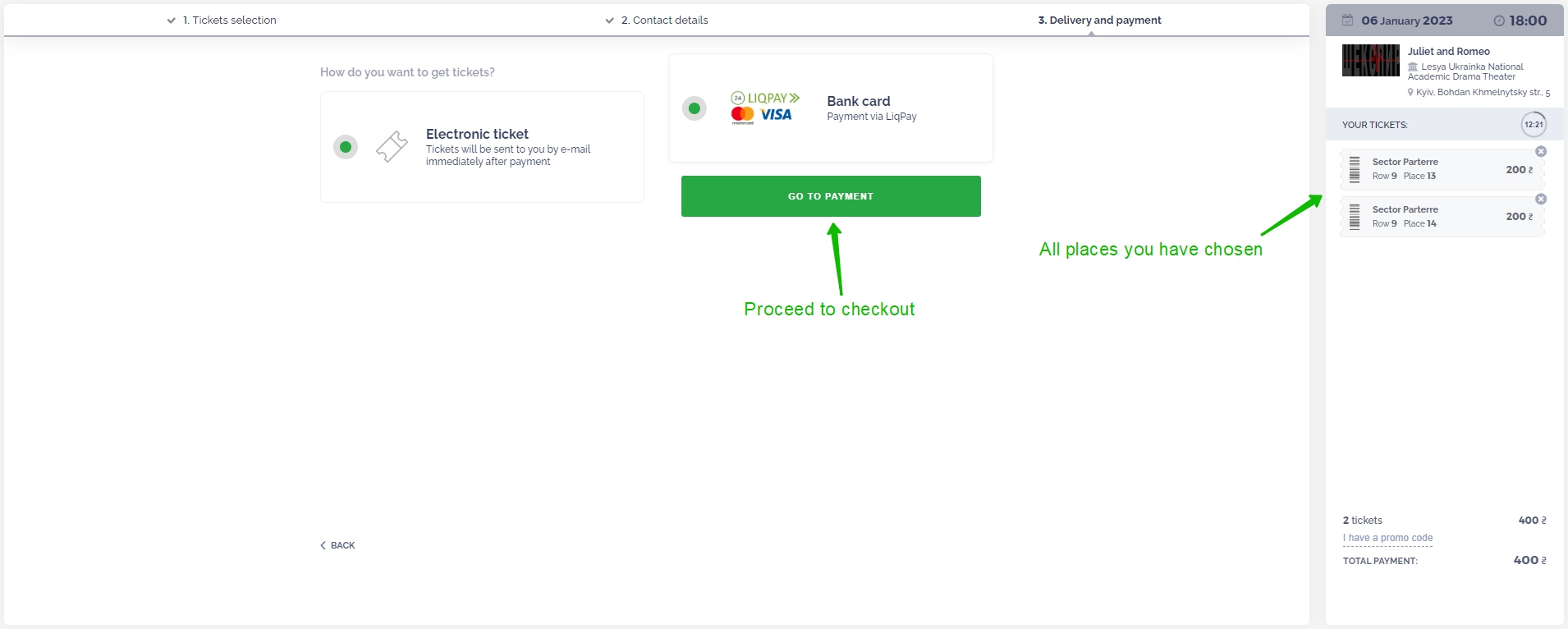 Clicking "Go to payment" loads the payment page. Follow the instructions on this page to proceed.
Feel free to use quick-pay options, such as Google Play or Privat Pay, or opt for a regular card payment.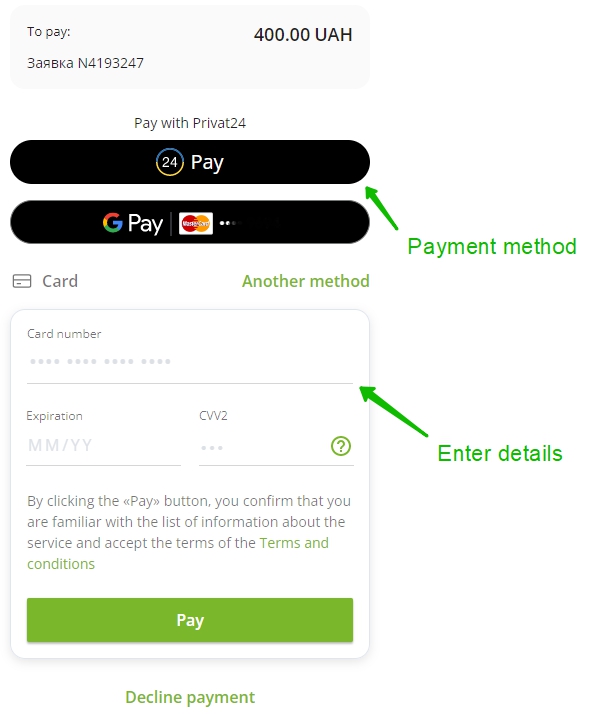 Once the payment has succeeded the system will offer you to optionally specify an email address where you'd like to receive a receipt.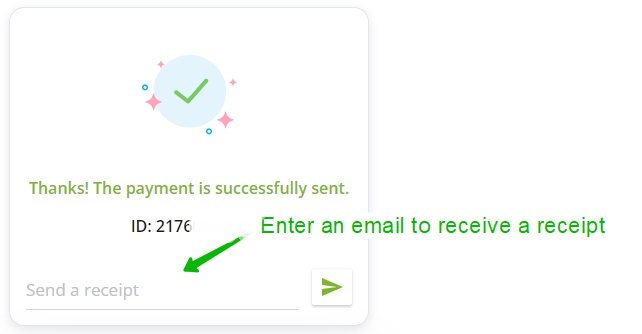 At this step, clicking "Back to the website" will take you to a page where you'll be able to see a confirmation of your order.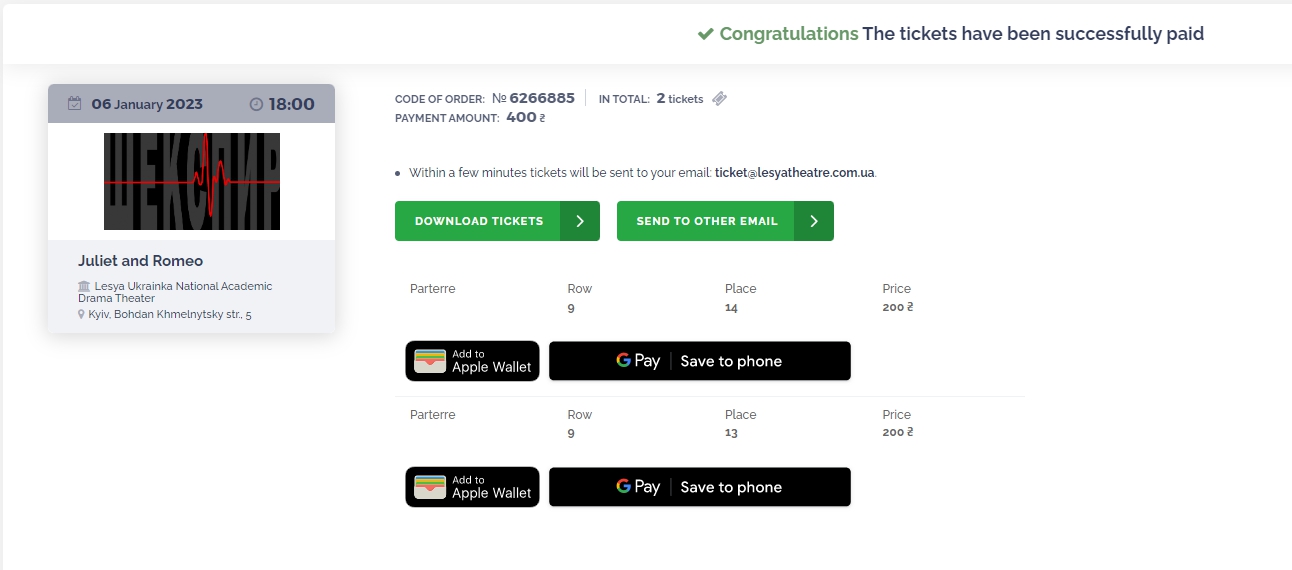 In 5-10 minutes you will receive an e-mail with your electronic tickets as attachments.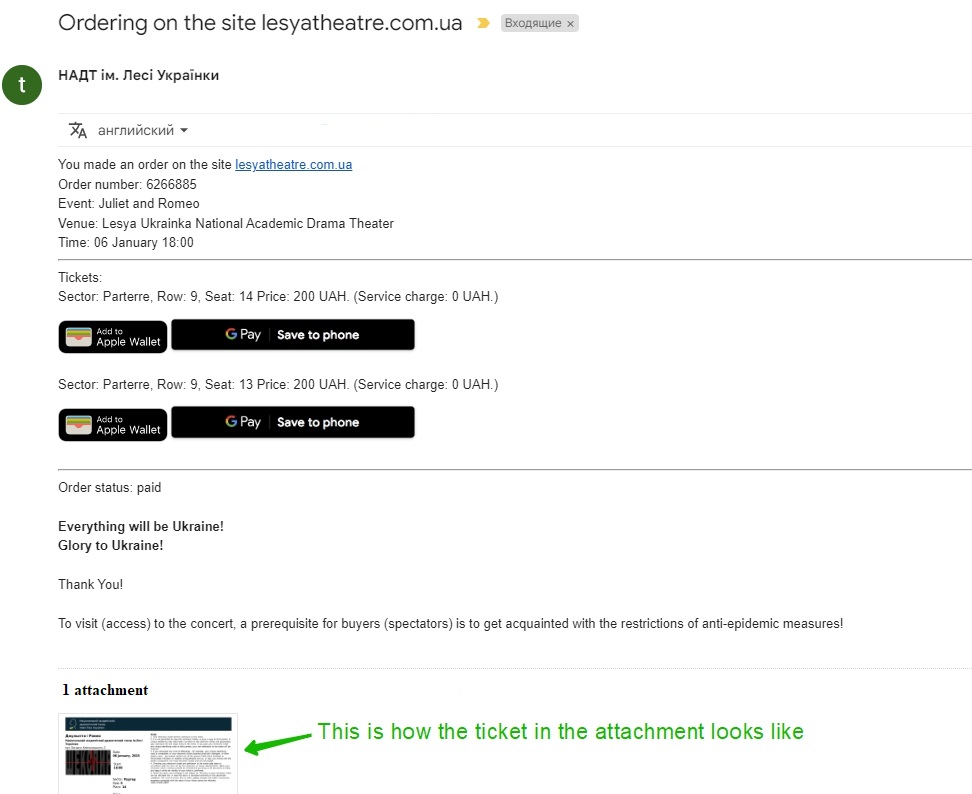 Please check your spam folder if the email didn't appear in your inbox on time.
You can also download your tickets by clicking "Download tickets" on the order confirmation page.
A new tab with the tickets will open where you can either download or print the tickets.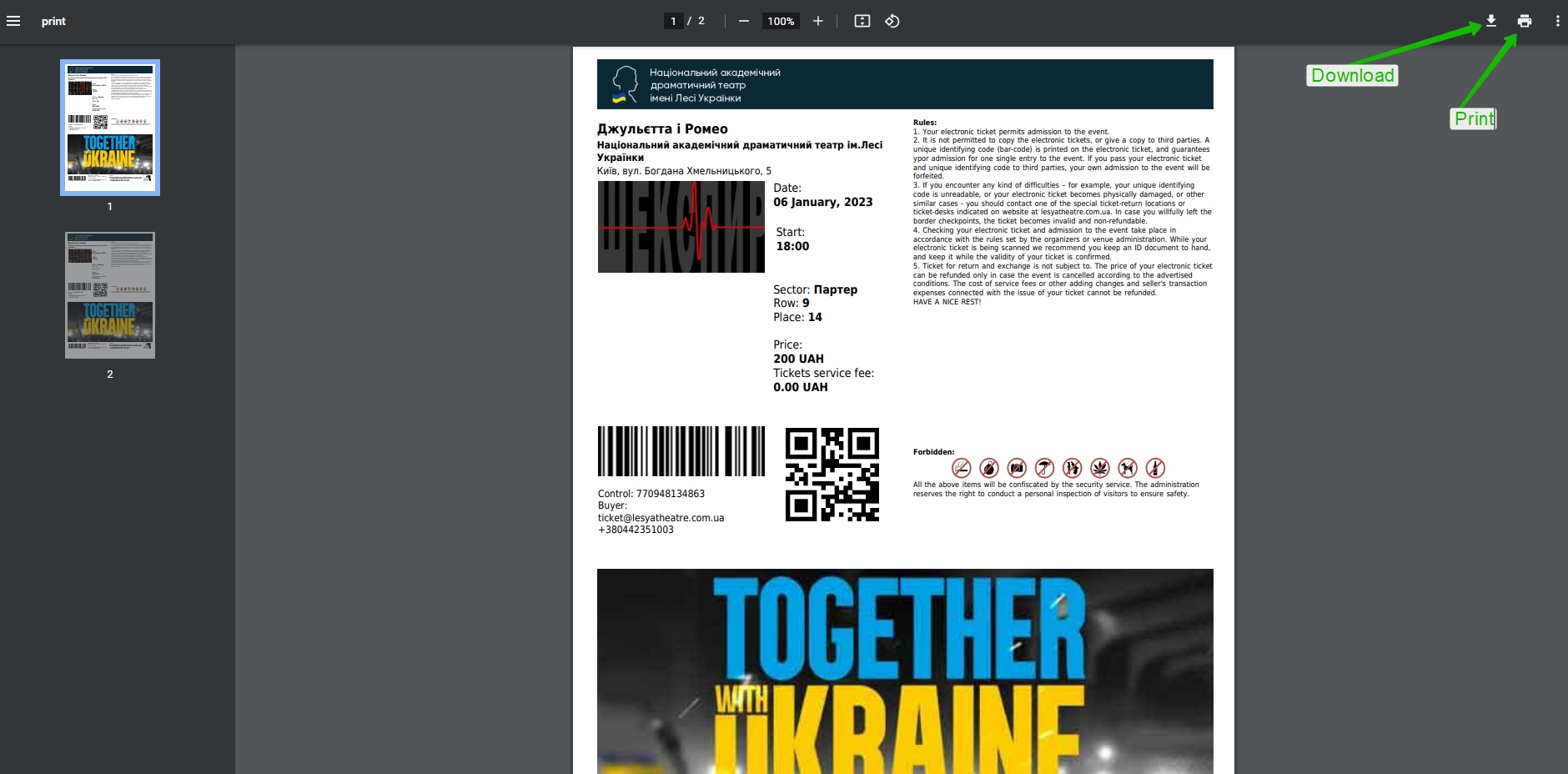 This is how your electronic ticket should look like.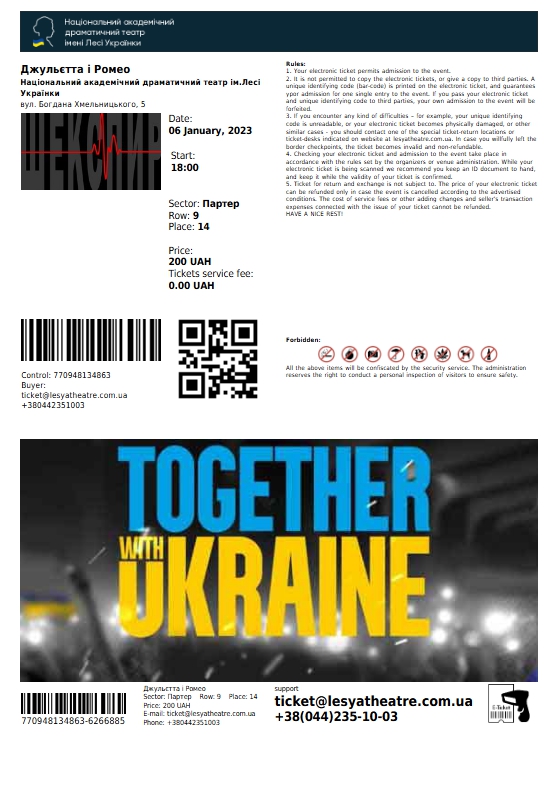 Booking time and availability:
You can also collect your tickets at the box office in the theatre by providing your order number within the time limit specified in the order.
Please note that with this option reservations for uncollected tickets cancel 24 hours before the performance.
Should you have any questions regarding booking, please direct them to the technical support:
235-10-03 Mon-Fri 10:00-18:00.
Alternatively, email us at

You can also book tickets by calling
234-42-23, Mon-Sat 10:00-18:00.
Mon-Sun, 10:00-20:00;
Bohdana Khmelnytskoho st., 5 (Teatral'na metro station)
Phone: 234-42-23
You can also purchase tickets via other booking agencies.
My card has been charged but I haven't received an email with my tickets.
Please check your spam folder. Sometimes email providers automatically redirect emails there. To avoid this happening in the future, add

to the list of trusted senders.
Something went wrong while I was trying to order. The page refreshed and now the seats I wanted are colored in grey and unavailable.
Once a seat has been added to an order, it is reserved for 15 minutes. If the order remains unpaid for this period of time, the reservation is automatically cancelled and the seats become availalble for booking again. Please wait for 15-30 minutes and try booking again.
The performance has been cancelled or rescheduled. I'd like to receive a refund for my ticket.
For tickets purchased in the box office, refunds are available at the box office. Please have your ID and the receipt for the tickets with you.
To request a refund for electronic tickets please email us at

I'm having trouble with my booking and I can't find the answer to my question on the website.
Please get in touch with us at

I've arrived late. Is it possible to take my seat in the audience?
Unfortunately, no.